HOME

0. Internet
1. Text
2. Graphics
3. System
4. File
5. Misc
6. Palm
7. OS X

BLOG
DOCS
FAQ
RSS (?)




WaKan - A great boon for Japanese and Chinese language students #
"WaKan is a versatile tool for students of Japanese or Chinese. It features a character dictionary, a word dictionary, a text editor, a vocabulary management utility, many printing options (character flashcards, vocabulary lists, text including furigana), and a text translation tool."

If you are typing a new Japanese document, furigana and translations appear automatically; when pasting, select text and press Ctrl+T to add them.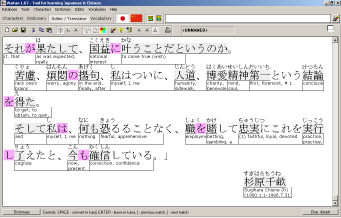 /windows | Dec 30, 2008
Descriptive book titles that obviate the need to read the book
#
/misc | Dec 28, 2008
Epictetus, business coach
#
On leaving the "workforce"
Men shut up tame lions in a cage, and bring them up, and feed them, and some take them around with them. And yet who will call such a lion free? Is it not true that the more softly the lion lives the more slavishly he lives? And what lion, were he to get sense and reason, would care to be one of these lions? Why, yes, and the birds yonder, when they are caught and brought up in cages, what do they suffer in their efforts to escape? And some of them starve to death rather than endure such a life, while even such as live, barely do so, and suffer and pine away, and if ever they find any opening, make their escape. Such is their desire for physical freedom, and a life of independence and freedom from restraint. And what is wrong with you here in your cage? "What a question! My nature is to fly where I please, to live in the open air, to sing when I please. You rob me of all this, and then ask, 'What is wrong with you?'"
On advertising
Does a philosopher invite people to a lecture? Is it not rather the case that, as the sun draws its own sustenance to itself, so he also draws to himself those to whom he is to do good?
On how to proceed
First, decide who you would be. Then, do what you must do.
From Epictetus' Discourses Book IV, Chapter 1; Book III, Chapter 23; and Book III, Chapter 23, respectively. The first two quotes are from Oldfather's translation, and the third is from an unknown source. All four books can be found on Amazon (I-II, III-IV) and Internet Archive (I-II, III-IV).

/misc | Dec 27, 2008

Run cmd.exe as Local System in Safe Mode #
When running Windows XP in Normal Mode, you can easily run cmd.exe as the LocalSystem Account (LSA) via:
at 14:02 /interactive cmd.exe
However, in Safe Mode, it returns:
This service cannot be started in Safe Mode
Microsoft points out that:
"The Task Scheduler service cannot be used while the computer is running in safe mode."
Creating a custom service with this neat hack from Adi Oltean also returns
This service cannot be started in Safe Mode
However, combining the hack with these instructions from Don Jones to add a service to the "safe" list did the trick. Here are the combined steps (which assume you are booted into Safe Mode):
Add a key to HKLM\System\CurrentControlSet\Control\SafeBoot\Minimal named lscmd or what have you. If you are in Safe Mode with Networking, add the key to HKLM\SYSTEM\CurrentControlSet\Control\SafeBoot\Network\.
C:\>sc create lscmd binpath= "cmd /K start" type= own type= interact
C:\>sc start lscmd
A new cmd.exe window will open with LocalSystem privileges. When you are finished, close the window, delete the registry key you made, and delete the service: sc delete lscmd .
In retrospect, it may very well have been possible simply to add Task Scheduler to the list of safe services, but I wanted to share both of these hacks.

/windows | Dec 14, 2008

CO2Stats - Making websites green #
"CO2Stats makes your site carbon neutral and shows visitors you're environmentally friendly.... [The service] automatically meters your website's total energy consumption, helps to make it more energy efficient, and then purchases audited renewable energy from wind and solar farms to neutralize its carbon footprint - all for a flat, affordable monthly fee."

I plugged TinyApps.Org into their calculator (which sadly returned the wrong plan based on our number of monthly page views - about 300,000) and within a few hours, Alex (one of the co-founders) had taken the trouble of looking me up and sending a very nice message. Over the course of several emails, I became convinced that these guys are destined for success based on their integrity, kindness, speed, and (perhaps not least of all) phenomenal flattery skills. They have already signed some big names like IBM, Harvard, and Segway, and I trust the service will continue to grow apace.

UPDATE: Treehugger has covered some green web hosting options as well.

/misc | Dec 02, 2008

Free CD/DVD and hard drive recycling #
Back Thru The Future offers free CD/DVD and hard drive recycling. You may wish to destroy optical discs with something like Sanyo's "The Claw" ($5.99 on Geeks.com at the moment) and securely erase hard drives with DBAN before sending your media to:
Back Thru The Future
150 Main Street
Ogdensburg, NJ 07439
Be sure to write "CD" on the outside of your shipping package.

/misc | Dec 01, 2008
Categories
Blosxom Archive
Blogger Archive
Ezine Archive