HOME

0. Internet
1. Text
2. Graphics
3. System
4. File
5. Misc
6. Palm
7. OS X

BLOG
DOCS
FAQ
RSS (?)




Tiny command-line disk/partition apps for DOS/Windows #
For over ten years, Svend Olaf Mikkelsen has crafted a number of free, tiny CLI apps focused on partitions and data recovery, like:
Findpart - Searches for lost FAT, NTFS, HPFS, BeOS and Linux ext2, ext3 and swap partitions. To search for reiserfs partitions, add "reiser" to the command line.
FindNTFS - NTFS data recovery tool. Lists the content of an NTFS partition, or copies files.
FindExt2 - Searches for Linux ext2 and ext3 superblocks and calculates possible partition location.
ReadExt2 - ext2/ext3 recovery tool. Lists the content of an Ext2/3 partition, or copies files.
Findword - Searches a disk for occurences of a word or sentence.
FindJPG - Attempts to copy JPG files without file system usage.
FindDoc - Attempts to copy DOC and XLS files without file system usage.
/windows | Mar 31, 2010

Fix your Kindle's tiny fonts #
Kindle Optimizer - Digital imaging veteran fixes fonts for Amazon: Kindle 2.0.2 and 2.0.3 files | Kindle 2.3 files

/eink | Mar 31, 2010

Cropping PDFs #
Three scripts for cropping PDFs (especially useful for making PDFs easier to read on a Kindle): UPDATE: Just stumbled onto soPDF, a Windows app (Linux port available) that is very fast and effective at removing white space:
$ sopdf -i input.pdf -o output.pdf -m 2

Before and after screenshots via PDFCrop:


| | |
| --- | --- |
| Before | After |
| | |
/nix | Mar 31, 2010

Remove PDF copy/print restrictions #
Free PDF Unlock Online Utility (Beta) quickly and easily unlocks PDFs up to 5MBs.

/misc | Mar 30, 2010

Store and read HTML files on the Kindle 2 #
UPDATE: Sorry, just realized that this is essentially a dupe of Reading HTML files on a Kindle from last year.

The long (and battery-draining) way:
Copy .html files to a new top level directory, e.g., "html"
Launch Basic Web (wireless must be enabled) and enter URL like file:///mnt/us/html/file.html
The short way:
Change file extension from .html to .txt before copying to "documents" on the Kindle
That's it! Just open your file from the Kindle home screen - basic formatting (h1, p, i, etc) is preserved.
(via Tomster)

/eink | Mar 27, 2010

Rob Reed builds a better Blosxom with Ode #
I first contacted Rob Reed last year while looking for a copy of his annotated Blosxom bundle (not to be confused with Frank Hecker's version). Rob quickly and kindly obliged, and also informed me of a new publishing platform he was working on called Ode,
a single Perl script
with content generated from plain text files
and look/layout determined by standard (X)HTML and CSS.
Release 1.0 has just become available for download today.

I asked Rob for permission (which was graciously granted) to post some of the thoughts he has shared over the last few months via email (emphasis mine):
On Blosxom: I'm a big believer in (the vision of) blosxom. In fact, as crazy as it may sound, blosxom played a part in my decision to go back to school to get a masters in computer science. Of course there was more to it than just blosxom, and it's certainly not necessary to get a degree in CS to understand blosxom, but I think blosxom is an important project, and I wanted to explore that idea. So, long story short, it's fair to say that Ode owes a lot to blosxom. Anyone who understands the why of blosxom will almost certainly get what Ode is all about.


On Ode: The project's motto is "Ode is simple" with the qualification that "Simple means you know how it works". I wanted to do something that blurred the line between end user and developer by making Ode accessible to anyone who was interested. To that end in addition to the normal sort of documentation there's a narrative walk-through of the source code similar to what I did with blosxom but with more discussion about not just what the code is doing, but why. I put together a lot of other resources as well, including diagrams related to the flow of execution, and a bunch of other stuff.


On Twitter: ... like inventing the telegraph after the telephone and insisting that its limitations somehow represent unique value.


On Facebook: Ask yourself if you're comfortable handing over all of your content to a service that you have no control over for the luxury of wading through ads, and then hoping that they don't change the terms of service at a moment's notice in such a way that you're no longer comfortable with their policies ... Perhaps more important is the fact that we already have a web. If you're like me, you don't see the need to build a web on top of the web and put it in the hands of a single commercial entity. Something about that just doesn't feel like a step in the right direction.


On hiring developers: I don't agree with most of what [name removed] has to say about what it takes to be a successful software developer (and what to look for when hiring developers). In fact, if I could invent a machine into which I could feed everything he's written about hiring developers and have it spit out the exact opposite, that advice is probably closer to how I'd do it. I'm a believer in loyalty, potential, personal responsibility, and shared ownership of projects, even in a professional setting. I also don't believe in tricking people into revealing to you whether they'll be good at the job you're interviewing them for; or testing as a substitute for getting to know people. I'm surprised at how invested companies are in hiring people who are good at getting hired, not people who will be good at the job they're being hired to do (and also who will be pleasant to be around for the next 1-10 years).


On "social networking": The web has been social from the very beginning :) ... that gets to the heart of what ode is about. I wanted to put together a simple platform that would allow a user to experience the web as it was intended to be - a distributed, collaborative space where everyone is able to contribute (as well as consume). A "more than the sum of it's parts" platform that plays well out on the open web. A tool for anyone who believes that permanence and substance are of primary importance.


/blosxom | Mar 25, 2010

Computing like it's 1989 #
Zach Perry kindly informs us of his recently launched Alternative Electronic Information Network (AEIN), a fee-based BBS that requires a proprietary Windows or DeskMate app to access. Normally such a service would not be mentioned in this space (especially with free and open options like Uncensored available), but the retro ANSI art and whimsical list of free additional benefits (DOS/Windows tech support by email, smoke alarm batteries, camera and computer parts, tree planting donation, etc) tipped the scales. Excuse me while I go grab a copy of TheDraw.

UPDATE: Just noticed this announcement on the homepage a week later:
The AEIN is now transitioning to a free service. Members who purchased paid memberships will retain the benefits promised at the time they signed up. New users can click here to download the AEIN software. All extra benefits have been eliminated for new members, but users can still access a wide range of ad-free content; news, weather, recipes, reviews, computer tips, world time, technical information, etc. New development has come to an end, although news and weather updates will continue.
/windows | Mar 22, 2010

iText Express 3.4: TextEdit on steroids #
Japanese | English. 32 and 64 bit versions available, supports Panther through Snow Leopard, optional OgreKit plugin greatly improves search function. 3.3 review. Screenshot of ame ni mo makezu pasted into one of the included templates: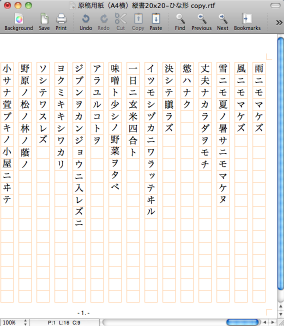 /mac | Mar 20, 2010

Automatically adjust color temperature of display based on time of day #
f.lux "makes your computer screen look like the room you're in, all the time. When the sun sets, it makes your computer look like your indoor lights. In the morning, it makes things look like sunlight again. Tell f.lux what kind of lighting you have, and where you live. Then forget about it. F.lux will do the rest, automatically."

Certainly seems to make backlit LCDs easier on the eyes in my testing. This should hold me over until Pixel Qi releases their DIY kit. Windows, Mac, and Linux versions available.

/misc | Mar 12, 2010

Random Data File Creator #
We've covered how to create empty files in Windows with fsutil. Random Data File Creator (RDFC) allows you to create binary files of any size filled with random numbers.

/windows | Mar 07, 2010

An embarrassment of riches #
Claus recently mentioned ImDisk Virtual Disk Driver and its author Olof Lagerkvist in such glowing terms that I had to have a look. In short, I was floored. Olof has crafted dozens of open source tiny apps, virtually all of which run under Windows 95 through 7 (some even under Windows 3.x!). Even better, he is one of the few Microsoft Visual C++ developers who shuns msvcrt.dll:
These binaries are compiled with the free version of Microsoft Visual C++. They are not linked with the standard C or C++ libraries that comes with this compiler, instead they are linked with a dynamic library I call minwcrt (Minimal Windows C Run-Time Library) linking them to crtdll.dll instead of msvcrt.dll. This makes them run in all versions of Win32 without additional dll files. This is also the reason why the exe files are very small. Source for this library is available as part of the source archive mentioned in the top of this document.
Here is just a smattering of the many apps available:
joindomain [1.44K] Join a computer to a domain from the command line
popdump [5.09K] Retrieves all messages from a POP3 mailbox and dumps them as eml files
popman [5.34K] List/delete messages directly on POP server
strarc [23.2K] Backup/archive tool that uses the same backup methods as the ntbackup or robocopy programs and thus backs up all information and meta data on an NTFS volume.
synctime [2.8K] Synchronizes local computer time with nist.gov time servers
regrepl [6.79K] Batch replace text in local or remote registry
/windows | Mar 07, 2010

OS X's popup Dictionary panel and Japanese #
Command+Control+D while hovering over a word displays a popup Dictionary panel in OS X. Pronunciation for English words is displayed in the medium grey title bar, but not for Japanese: Anyone know of a fix or workaround? In the meantime, JEDict's web browser (built on WebKit) includes a drawer with pronunciation, definitions, etc.

/mac | Mar 07, 2010

Automatically insert furigana / ruby / rubi readings in Firefox #
Furigana Injector looks up the readings for kanji words and inserts them as furigana. Optionally install XHTML Ruby Support for rendering furigana above text instead of inline.

/misc | Mar 07, 2010
Categories
Blosxom Archive
Blogger Archive
Ezine Archive