---
Monodraw makes me smile :-) #
Monodraw brings ASCII diagramming into the 21st century, eclipsing even vector diagram tools like Visio and OmniGraffle in ease of use and speed: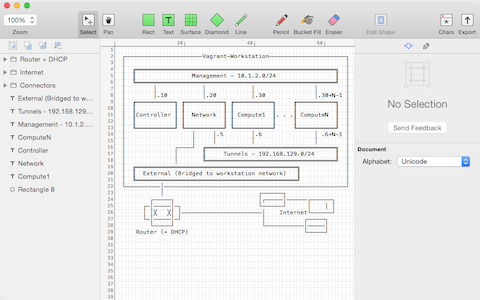 Those who have struggled with the exisitng ASCII diagram options for decades will appreciate what a radical leap forward Monodraw represents; it's like going from black and white to color TV.
Free during beta and currently available at a 40% discount. Refreshing licensing policy for a Mac shareware app: "Each license is assigned to a single person and it can be used on multiple Macs owned by the licensee. Monodraw does not use activation or any other form of DRM. We have complete trust in our customers."
(Full disclosure: I've been alpha testing Monodraw the last few months; bought the software today at the same beta discount available to everyone. Sadly, I have no stake in Monodraw, financial or otherwise - just an ecstastic and grateful customer. I must also admit to being a fan of their whimsical illustrations.)
/mac | Mar 04, 2015
---