---
Batch convert TXT to PalmDOC (PDB) and back #
txt2pdbdoc "is a Unix-based Text-to-Doc file conversion program". I have compiled it for Windows using Cygwin: txt2pdbdoc.7z.*

Usage:
C:\>txt2pdbdoc.exe [options] document_name file.txt file.pdb
Batch conversion:
C:\>for %f in (*.txt) do (txt2pdbdoc.exe %~nf %f %~nf.pdb)
* If you prefer compiling your own binary from source under Windows:
Download and unzip txt2pdbdoc
Install Cygwin with dev tools
Run Cygwin and cd to txt2pdbdoc-master directory extracted in step 0
$ autoreconf -fiv
$ ./configure
$ make
txt2pdbdoc.exe will be created in the txt2pdbdoc-master\src directory
/palm | Nov 05, 2015
El Capitan: "PowerPC applications are no longer supported" error message #
Some third-party apps may appear in the Applications folder with a prohibitory sign on top of their icons. Attempting to open such an app results in the following error message:
You can't open the application "foobar" because PowerPC applications are no longer supported.
despite it not being a PowerPC-based app.

The solution (for now) is to simply move or copy the app to the Desktop (or anywhere else in the user's home directory, presumably).

/mac | Oct 23, 2015
Windows won't boot (or boots only once) after SSD upgrade #
TL;DR: BIOS update solved Windows 7 boot problems following SSD installation.

Installed a 960GB SanDisk SSD into a Dell Latitude E5510 and tried cloning the previous hard drive to it:
The SATA mode was never changed from its original setting (AHCI). At this point, RAID and ATA/IDE modes were attempted to no avail.
Next, a clean install of Windows 7 was made to the SSD. It booted once, but after some Windows updates were installed and the machine rebooted, would not start again (back to the same issues in #3 above.)
Contacted SanDisk on the off-chance that it was the drive or the firmware; they kindly sent a brand new (not refurbished) replacement in an unopened retail box. Tried a clean install to the new SSD; same result as before.
Finally it dawned on me ("One more coruscation, my dear Watson -- yet another brain-wave!") to try updating the BIOS. Sure enough, after updating from A05 to A10 and then A16, Windows booted up just fine. Cloned the old HDD with Paragon Drive Copy and that too worked perfectly.
In hundreds, if not thousands, of drive cloning operations over the years, it was the first time I had encountered a situation in which Windows would boot once and then fail on subsequent attempts. It was also one of the few times I had seen a BIOS update solve anything (UPDATE: Claus and Matt kindly inform me that they've found BIOS updates to be especially effective at resolving knotty problems, even those not typically associated with the BIOS). Lesson learned! May this pitiful account save some other soul time and toil.
Windows Boot Manager
Windows failed to start. A recent hardware or software change might be the cause. To fix the problem:
1. Insert your Windows installation disc and restart your computer.
2. Choose your language settings, and then click "Next."
3. Click "Repair your computer."

If you do not have this disc, contact your system administrator or computer manufacturer for assistance.
File: \Windows\system32\winload.exe
Status: OxcOOOOOO1
Info: The selected entry could not be loaded because the application is missing or corrupt.
CSS props:
/windows | Oct 18, 2015
Enable Maildir storage in Thunderbird #
Maildir offers a number of advantages over mbox. Thunderbird 38 offers experimental support for Maildir; read the warnings and caveats before enabling.

Steps:
Thunderbird > Preferences > Advanced > Config Editor...
Search for mail.serverDefaultStoreContractID
Change the default @mozilla.org/msgstore/berkeleystore;1 value to @mozilla.org/msgstore/maildirstore;1
Restart Thunderbird
Notes:
***
A few notes on the "death" of Thunderbird:
/misc | Oct 15, 2015
El Capitan install error: OS X could not be installed on your computer #
Among the least helpful error messages I've come across:
OS X could not be installed on your computer

No packages were eligible for install. Contact the software manufacturer for assistance.

Quit the installer to restart your computer and try again.

Restart
It should read "Fix the time and date before installing" or something like that. Here's how to resolve while booted from the install disk:
Utilities > Terminal
Fix the date and time, e.g., date 101407002015 (i.e., Oct 14, 07:00 2015)
Click Restart (sadly, there's no other option to go back and try again)
/mac | Oct 14, 2015
Robocopy replacement #
strarc.exe (Stream Archive) is
"a console backup/archive tool for Windows NT/2000/XP/2003/Vista/2008/7. It uses the same backup methods as the ntbackup or robocopy programs and thus backs up all information and meta data on an NTFS volume. The main difference is that strarc is free and open source and produces stream archives you can store on tapes, disks or anywhere else or it can create the archive stream to stdout so that it can be compressed easily using stream compression tools like gzip or bzip2. The command line switches and parameters are quite similar to the *nix tar utility and it can easily be used to clone an entire NTFS volume including everything, files, directories, their time stamps, attributes and security information, compression attribute, alternate data streams, junctions, hard links etc. It is now even possible to backup the registry database files of a running Windows system."
Here's a simple usage example from the documentation:
strarc.exe -cjd:C:\dir | strarc -xd:D:\dirbk

"This will clone the C:\dir directory tree to D:\dirbk but will not follow junctions in the C:\dir directory tree but instead clone the junction itself to the D:\dirbk location."
A few initial observations:
Source code available separately here
Attempting to clone a live system (even with the -r switch to "backup loaded registry database of the running system") to another drive failed to produce a bootable copy (after Startup Repair ran, Windows 8 booted to the login screen but stayed stuck on "Preparing Windows"), despite the promise of "How to backup a complete running Windows system" in the documentation (which does not cover shadow copies - see #3).
However, using one of the command line shadow copy tools in conjunction with strarc reportedly works.
While copying C: to E:, received a number of "Short names are not enabled on this volume" errors. Ran fsutil 8dot3name set e: 0 to resolve, though strarc also offers a "-w:8" switch which hides warnings when short 8.3 names cannot be restored.
Need to update emcopy.exe post and Xcopy Windows to a new hard drive
More info:
/windows | Oct 12, 2015
Disable "The disk you inserted was not readable..." message for internal SATA drives #
As Apple continues to make its products harder and harder to repair, internal drive replacement is becoming a major hassle. You might find yourself with a bad SATA cable (e.g., "Unable to write to the last block of the device.") or dead hard drive, but not the will to spend hours dismantling and reassembling your Mac. You might decide to boot from a Thunderbolt, USB, or FireWire drive instead. However, you will be greeted by this cheery message on every boot:


The disk you inserted was not readable by this computer. Initialize... | Ignore | Eject
Happily, James Newell has crafted and shared a modified DiskArbitrationAgent to ignore unreadable SATA drives. It also works great for ignoring volumes or file systems that OS X doesn't understand (TrueCrypt, ext4, ZFS, etc). Despite originally being Yosemite-only, he has kindly added builds for Mavericks and El Capitan today.
/mac | Oct 12, 2015
Free and easy email migration from Thunderbird to Outlook #
Aid4Mail has long offered a fast and easy path from Thunderbird to Outlook (as illustrated in our 2005 review). However, there were few free and easy options until MailStore Home; it seamlessly handles importing from Thunderbird and exporting directly into Outlook. In fact, once your email is archived in MailStore Home, you may not need or want to export into Outlook at all, as the full-text search feature (including attachments) is very fast and PST files are a nightmare anyway.

/windows | Oct 09, 2015
That's a lot of gigabytes... #
Seen on a Windows 10 desktop today: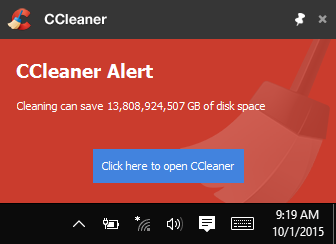 13,808,924,507 gigabytes is equal to 13.808924507 exabytes. Considering that "by the end of 1999, the sum of human-produced information (including all audio, video recordings, and text/books) was about 12 exabytes of data", this might take a little while.

/windows | Oct 01, 2015
Asciidoc(tor)! Where have you been all my life?! #
I love documenting, but loathe the tedious process of trying to manually markup the logical structure in HTML, as evidenced by these inconsistent pages:
I began a futile search for a Markdown editor that could automatically generate section numbers and a table of contents. Next I tried "software for technical writing" which turned up some promising tools. But it wasn't until I tried searched for
    text editor "table of contents" "section numbering"
that I finally hit the jackpot on page 2 of the search results:
Asciidoctor is a fast text processor and publishing toolchain for converting AsciiDoc content to HTML5, DocBook 5 (or 4.5) and other formats.
It turns this:

= Learn 2 Languages in 2 Seconds
:toc:
:numbered:

== Hello, world!

=== Python

[source,python]
print "Hello World"

=== Ruby

[source,ruby]
puts "Hello, World!"

into this (CSS has been removed and a light grey background applied; by default, output is much prettier):
Learn 2 Languages in 2 Seconds
Table of Contents
1. Hello, world!
1.1. Python
print "Hello World"
1.2. Ruby
puts "Hello, World!"
Last updated 2015-09-25 20:50:26 HST
Where has this been all my life?!
Exactly what I was after - crazy-simple syntax with automatic section numbering and TOC generation (bonus: it also inserts "Last updated date time" at the bottom).
Quotes & Articles
Editing & Preview
Manuals & Reference
Notes & More
/misc | Sep 26, 2015
---