---
RAID not supported by EASEUS Partition Master Server Edition Boot CD #
There are a number of Partition Magic clones which offer bootable CDs. I needed one that would support a SCSI RAID 1 array, and thought I had found the solution in EASEUS Partition Master Server Edition: "EASEUS Partition Master allows you to resize partition during the copy process with hardware RAID supported. And it can boot from both CD/DVD and Windows System."1.

UPDATE: EASUS has kindly updated their webpage to reflect the fact that RAID is not supported by the boot CD. I am very impressed with their quick response, and after using the installed version, am equally impressed with their product.

After purchasing the software (the boot disc cannot be created from the trial download), I burned and booted from the CD. Imagine my surprise when greeted by this message: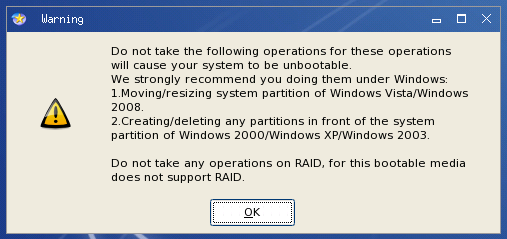 Not only does it not support RAID, it doesn't support Vista, Windows 2008, or creating/deleting partitions which occur before virtually any Windows partition. This was not mentioned in their documentation anywhere (though I later found a single forum post which mentioned the lack of RAID support). I emailed back and forth with their tech department who were very kind, but could not offer a solution. I once again set out to find a bootable partition manager that would support RAID. Here are a few possibilities:
Resize NTFS partitions using the GParted live CD - Himuraken successfully repartitioned a Dell PowerEdge 2800 PERC 4 RAID 5 array using the free and open source GParted. Several other reports indicated possible trouble with GParted and NTFS-formatted RAID, so backing up is critical (as it always is before repartitioning).
Paragon's Partition Manager 10 Server seems to fit the bill. Peter Banz has a glowing review, but I cannot be sure that the boot CD actually includes the necessary RAID drivers. Since it is Windows PE-based, they could be manually added via floppy during boot, but that adds another layer of hassle.
Acronis Disk Director Server 10.0's documentation mentions a "Rescue Media Builder", but does not explicitly state whether or not it supports RAID. UPDATE: Darren kindly informs us that Disk Director Server's boot disc supports a number of RAID controllers. He sent along a list of all files included on the CD, and points us to /lib/modules as well as /etc/driverspack (for those that run in compatibility mode) to review said drivers.
If you have any suggestions for a bootable partition manager that supports RAID, please be so kind as to send them in.

/windows | Aug 24, 2009
---