---
Concatenate multiple HTML files into a single EPUB file #
via Sigil:
"File" > "Add" > "Existing Files..."
select desired HTML files
"File" > "Save As..." > set filename and destination for EPUB.
Since Kindle e-Readers inexplicably do not support EPUB, users can convert the generated EPUB file to MOBI with calibre:
"Add books" > select desired EPUB file
"Convert books" > Output format: "MOBI" > "OK"
After conversion, right click title > "Open containing folder" > copy MOBI file to Kindle
UDPATE 1: Combine multiple HTML files into a single PRC ebook
UDPATE 2: Ken Turner's open source htmlcat Perl script (crafted back in 1998) still works great for combining any number of HTML files into a single one, which can be easily converted to other formats (e.g., MOBI via Amazon's KindleGen, etc).
/eink | Feb 26, 2015
E Ink word processor #
A few years ago, we shared how to turn your Kindle DX into an E Ink computer monitor. For those who prefer a simpler, all-in-one device, the Hemingwrite will offer: 6" E Ink screen, aluminum case, mechanical keyboard with customizable Cherry MX switches, and WiFi/Bluetooth connectivity.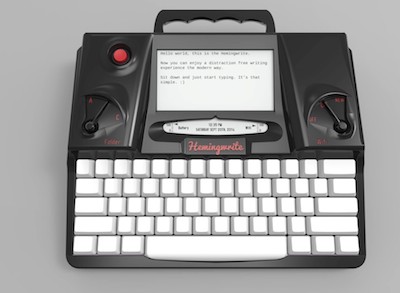 Somewhat similar concept as the AlphaSmart, though E Ink and Cherry switches will be a huge upgrade. It would be nice to see more screen and less case in the top half of the device.

/eink | Oct 28, 2014
Kindle: Opening PRC files #
PSA: Some Kindle devices and app versions open PRC files just fine, but others require that the extension be changed from PRC to MOBI. More: .prc vs. .mobi | Are PRC and MOBI files identical?

/eink | Mar 09, 2014
13.3" E Ink tablet #
Sony is planning to release an A4-sized E Ink tablet later this year using E Ink's Mobius display. Until then, the Kindle DX makes a good computer monitor. (Note to hardware manufacturers: still waiting for a plug-and-play E Ink monitor for text-intensive tasks and perhaps even video/animation).

/eink | May 19, 2013
Rugged E Ink Android tablet for the backcountry #
Earl is an E Ink tablet built for outdoor use:
Android 4.1
Flexible 6" E-ink screen (1024x768)
Sunlight viewable with lunar lantern mode
Glove friendly IR touchscreen
Waterproof shell
Kickstand
Solar (or USB) charging
i.MX 6 DualLite 1GHz Cortex A9
1GB ram
16GB memory + microSD
WiFi b/g/n
BT 4.0
ANT+
NFC
FRS/GMRS/MURS
GPS + GLONASS
Accelerometer
Gyroscope
Magnetometer
Temperature
Barometer
Humidity
Anemometer
AM/FM/SW/LW
IR blaster
20+ hour battery
20" USB lanyard
303 grams (10.8 oz)
183mm x 121mm x 15mm (7.2" x 4.75" x 0.6")
/eink | May 11, 2013
E Ink computer monitor #
Still waiting for an E Ink monitor? Use your Kindle DX as a second display.

Additional keywords for the bleary-eyed:
E-Ink computer screen
Kindle external keyboard
E Ink monitor for computer
E Ink word processor
E Ink display for writing
Kindle as computer monitor
Writing on Kindle
e-paper
An external keyboard for your Kindle
/eink | Apr 02, 2012
Combine multiple HTML files into a single PRC ebook #
and generate a table of contents automatically with Mobipocket Creator. Additional keywords: batch, concatenate, convert, HTML2PRC, Kindle.

UPDATE: Concatenate multiple HTML files into a single EPUB file

/eink | Dec 03, 2011
Optimizing PDFs for E Ink displays #
Related:
Edit PDF metadata, bookmarks, page labels and more with BeCyPDFMetaEdit.
jPDF Tweak is a veritable Swiss Army knife for PDF files, allowing you to make printable booklets, add bookmarks and effects, change metadata, and perform a slew of additional functions like: combine, watermark, rotate, encrypt, and sign.
Extract images from PDFs with pdfimages for Linux, PDF-Images for OS X, or Some PDF Images Extract for Windows. Learn how images are stored in PDF files.
/eink | Oct 31, 2011
VNC client for Kindle #
KindleVNC allows not only remote viewing but also remote control of your computer running a VNC server. Very polished and well-thought-out. Tested with OS X's standard VNC server ("Screen Sharing" on port 5900). (via MobileRead)

/eink | Oct 02, 2011
Newly added to the Docs section #
Installing Luigi Rizzo's Standalone Kindle Terminal
/eink | Feb 25, 2011
---