---
Windows 7 install error: "A required CD/DVD drive device driver is missing" #
While attempting to install Windows 7 on a Dell Optiplex 3040 Micro, the following error appeared:
A required CD/DVD drive device driver is missing. If you have a driver floppy disk, CD, DVD, or USB flash drive, please insert it now.

Note: If the Windows installation media is in the CD/DVD drive, you can safely remove it for this step.

Browse | OK | Cancel
(As it turns out, the problem is caused by a missing USB 3.0 driver, so installing via USB floppy, CD/DVD, flash drive, etc was not possible.)
Browsing for a driver on the virtual X: drive returned:
No device drivers were found. Make sure that the installation media contains the correct drivers, and then click OK.
Reports online did not sound promising, e.g.: 'No device drivers were found' error when installing windows 7 on new computer "FINAL EDIT - If you're here for answers, while nothing here worked for me, that doesn't mean it won't work for you, so I suggest you try everything here if you can. What I ended up doing is giving up on windows 7 and instead installed windows 10.").
Coming up with a working solution took more time than anyone else should ever have to invest in this issue again. Here's what worked for me:
Format a USB drive as NTFS. If necessary, use diskpart.exe:

list disk

select disk x, where x is the number assigned to your USB drive

clean

create partition primary

select partition 1

active

format fs=ntfs quick

assign

exit

Copy files and folders from Windows 7 ISO or DVD to USB drive

Download Intel(R) USB 3.0 eXtensible Host Controller Driver and extract contents

Click "Add" > "Image folder" > select drive letter of USB drive (E: in the example that follows) > click "Select Folder"

Under "Operating systems | install.wim", right click the version of Windows that corresponds to your license and then click "Load":

Once loading has completed, click "Drivers" in the left-hand column:

Click "Add" > "Folder with multiple drivers" > browse to the folder containing extracted driver(s) > click "Select Folder"

Click "Apply" in left-hand column > click green "Process" button at top left > "Yes"

When processing is complete, click "Source" in the left-hand column to return to the main window

Repeat steps 6 through 10 for the two entries under "Boot/Setup | boot.wim" (in the screenshots above, they are "Microsoft Windows PE (x86)" and "Windows 7 Setup")

If desired, make an ISO image of the USB drive (for burning to DVD-R, etc) by right clicking E: under "Image history" and then clicking "Create ISO"

The USB drive or ISO image can now be used to install Windows 7 on the affected computer (see below for a list of all affected Dell models)
Notes
Dell explains the cause here: Dell systems with the Intel Skylake or Braswell Chipset cannot boot to Dell Windows 7 media due to no USB 2.0 but the NTLite directions are incomplete (as of August 21, 2016) to the point of being virtually useless. In an update to their post, Dell recommends using instead:

Intel's Windows 7 USB 3.0 Creator Utility ("This utility automates the process to create a Windows 7 installation image to include USB 3.0 drivers. The new installation image can then be used to install Windows 7 on Intel® NUC products that have only USB 3.0 ports."). However, it would crash towards the end of the process and the image it created did not include the necessary USB 3.0 driver. Also, it only runs under Windows 8.1 or higher (?!) and (according to the instructions) requires Windows USB/DVD Download Tool (which Microsoft inexplicably hosts at http://wudt.codeplex.com/ and last updated in 2009), which requires Microsoft .NET Framework v2 and Microsoft Image Mastering API v2! Since v2 does not run under Windows 8.1, 3.5 was tried, but ultimately the Download Tool did not work out (nor did Rufus), though this could have been caused by running in a virtual machine (which worked fine for the process outlined above).

Fiddling with the scant USB and virtualization options in the BIOS did not avail.

Old timers will note the similarity between this issue and the Windows XP / SATA install problem from yesteryear.

Before piecing together the above procedure, used this old workaround:

Remove SATA HDD from Optiplex 3040 and install into generic PC.

Install Windows 7 normally

Shutdown at initial welcome screen (Shift+F10, shutdown -t 1 -s)

Boot generic PC once more from Windows 7 installer and use regedit to switch from IDE to AHCI mode if necessary:

Shift+F10 > regedit.exe

Load \windows\system32\config\system (which corresponds to HKEY_LOCAL_MACHINE\SYSTEM\)

Navigate to ControlSet001\services\msahci and change "Start" DWORD value from 3 to 0.

Repeat step c for ControlSet002\services\msahci

Copy missing drivers to SATA HDD

Reinstall SATA HDD into Optiplex 3040 - Windows boots normally. Install missing drivers.

Here is the current list of affected Dell computers: Latitude E7270, Latitude E7470, Latitude 3470, Latitude 3570, Latitude E5270, Latitude E5470, Latitude E5570, Latitude 7370, Latitude 7414 Rugged, Latitude 7214 Rugged, Latitude 5414 Rugged, Optiplex 7440 AIO, Optiplex 3240 AIO, Optiplex 7040, Optiplex 5040, Optiplex 3040, Precision Tower 3620, Precision Tower 3420, Precision MPWS 7510, Precision MPWS 7710, Precision MPWS 3510, XPS 9550, XPS XPS 13 9350, XPS 8900, Inspiron NB 7559, Inspiron NB 3452/3552, Inspiron NB 3459/3559, Vostro NB 5459, Inspiron DT 3059, Inspiron DT 3459, Inspiron DT 5459, Inspiron DT 3650, Inspiron DT 3250, Vostro DT 3650, Vostro DT 3653, Vostro DT 3250, Vostro DT 5450
Update
How to Install Windows 7 with only USB 3.0 Ports outlines a similar process using dism, but assumes a preexisting USB-based Windows 7 installer.
/windows | Aug 21, 2016
Stop ransomware process and dump memory to extract key #
Anti Ransom v3 "creates a random decoy folder with many useless random documents (Excel, PDF) and then it monitors the folder waiting for changes. When a change is detected, AntiRansom tries to identify which process is the responsible of such change and then stops it and dump the memory process (hopefully the key or password that is being used by the ransomware is inside)".

/windows | Jul 09, 2016
Extract passwords and more from memory #
mimikittenz "is a post-exploitation powershell tool that utilizes the Windows function ReadProcessMemory() in order to extract plain-text passwords from various target processes".

Basic usage:
Run Windows PowerShell as administrator
cd to directory containing Invoke-mimikittenz.ps1 (e.g., Downloads)
PS C:\Users\user\Downloads> Set-ExecutionPolicy RemoteSigned
PS C:\Users\user\Downloads> Import-Module $pwd\Invoke-mimikittenz.ps1
PS C:\Users\user\Downloads> Invoke-mimikittenz
Sample result:

PatternName       PatternMatch
-----------       ------------
Gmail             &Email=tinyapps@gmail.com&Passwd=PASSWORD_IN_PLAINTEXT&Persiste...

See also:
/windows | Jul 08, 2016
Cloning a failing hard drive to a smaller drive #
Faced with a rapidly-worsening hard drive (and after backing up critical data), I hoped to clone the Windows install to a smaller drive (the only one on hand). Kanguru's Mobile Clone HD One-To-One Duplicator (KCLONE-1HD-MBC) has gotten me out of similar binds before, but cloning to smaller drives is not currently supported.

Here are the boot discs I tried in order and their results (for a similar list, see Windows won't boot (or boots only once) after SSD upgrade):
I was happily surprised astounded that my version 2 license from 2008 was still valid for the current version (2.99-00), which was released as recently as February 25, 2016. Many thanks to TeraByte for a great product and the super-long term support!

/windows | Jun 16, 2016
Check Windows for spurious certs #
In light of malware and OEM CA shenanigans ("Who's your Verisign?" - Malware faking digital signatures, Dell ships laptops with rogue root CA, exactly like what happened with Lenovo and Superfish), be sure to check certificates regularly, especially immediately following acquisition or malware cleanup.

While you could comb through Certificate Manager (certmgr.msc), Sigcheck from Sysinternals speeds things up considerably. The following example is from a system with Superfish and Fiddler certs installed:

C:\>sigcheck.exe -tuv *

Sigcheck v2.51 - File version and signature viewer
Copyright (C) 2004-2016 Mark Russinovich
Sysinternals - www.sysinternals.com

Listing valid certificates not rooted to the Microsoft Certificate Trust List:

User\MY:
   DO_NOT_TRUST_FiddlerRoot
        Cert Status:    Valid
        Valid Usage:    Server Auth
        Cert Issuer:    DO_NOT_TRUST_FiddlerRoot
        Serial Number:  99 77 7A 3E 64 63 19 9C 4D 6D 66 75 10 EF 0E B6
        Thumbprint:     31745D49A0C3386A1387A755217FD5C9701A9607
        Algorithm:      sha256RSA
        Valid from:     12:00 AM 6/14/2015
        Valid to:       11:59 PM 6/13/2026
User\Root:
   DO_NOT_TRUST_FiddlerRoot
        Cert Status:    Valid
        Valid Usage:    Server Auth
        Cert Issuer:    DO_NOT_TRUST_FiddlerRoot
        Serial Number:  99 77 7A 3E 64 63 19 9C 4D 6D 66 75 10 EF 0E B6
        Thumbprint:     31745D49A0C3386A1387A755217FD5C9701A9607
        Algorithm:      sha256RSA
        Valid from:     12:00 AM 6/14/2015
        Valid to:       11:59 PM 6/13/2026
   Superfish, Inc.
        Cert Status:    Valid
        Valid Usage:    All
        Cert Issuer:    Superfish, Inc.
        Serial Number:  00 D2 FC 13 87 A9 44 DC E7
        Thumbprint:     C864484869D41D2B0D32319C5A62F9315AAF2CBD
        Algorithm:      sha1RSA
        Valid from:     6:25 AM 5/12/2014
        Valid to:       6:25 AM 5/7/2034
   DO_NOT_TRUST_FiddlerRoot
        Cert Status:    Valid
        Valid Usage:    Server Auth
        Cert Issuer:    DO_NOT_TRUST_FiddlerRoot
        Serial Number:  99 77 7A 3E 64 63 19 9C 4D 6D 66 75 10 EF 0E B6
        Thumbprint:     31745D49A0C3386A1387A755217FD5C9701A9607
        Algorithm:      sha256RSA
        Valid from:     12:00 AM 6/14/2015
        Valid to:       11:59 PM 6/13/2026

From the documentation:

 -t[u][v] Dump contents of specified certificate store ('*' for all stores).
          Specify -tu to query the user store (machine store is the default).
          Append '-v' to have Sigcheck download the trusted Microsoft
          root certificate list and only output valid certificates not rooted to
          a certificate on that list. If the site is not accessible,
          authrootstl.cab or authroot.stl in the current directory are
          used instead, if present.

/windows | Jun 14, 2016
Block a specific program from accessing the Internet #
Open Windows Firewall with Advanced Security (wf.msc)
Click "Outbound Rules"
Click "New Rule…​"
Click "Program" > "Next"
Click "This program path" > "Browse" > select program to block > "Next"
Click "Block the connection" > "Next"
Leave Domain, Private, and Public checked > "Next"
Type desired name for rule and click "Finish"
If that seems too tedious, check out OneClickFirewall. It adds a context menu item to "Block Internet Access" and another to "Restore Internet Access", leveraging outbound rules in Windows Firewall with Advanced Security.

/windows | Jun 04, 2016
Tiny Unix Tools for Windows #
With the exception of the last two entries, these tools have been littered around the blog for years; this is an attempt to put them all in one place. In order of appearance:

/windows | Jun 04, 2016
Like having your very own Mangajin editor #
Back in the 90s, Mangajin revolutionized Japanese language studies by meticulously explaining comics, offering the original Japanese (kanji, hiragana, katakana), romanized Japanese, literal English meaning, idiomatic English meaning, politeness level (PL1-PL4), and loads of other details missing from textbooks: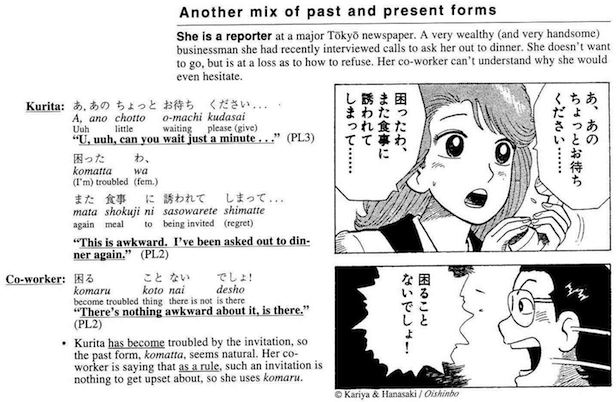 (Some might argue that the co-worker's response should be labeled PL3 instead of PL2, since he uses 「でしょ」 instead of 「だろ」 or 「だろう」)
Long out of print, digitized archives of all 70 issues float around the Internet; one kind soul has been hosting the first 30 issues for ages.
However, these days, you can turn almost any Japanese source image into a Mangajin-like smorgasbord of information thanks to two open source, portable apps from Christopher Brochtrup:
Capture2Text "enables users to quickly OCR a portion of the screen using a keyboard shortcut. The resulting text will be saved to the clipboard by default. Supports 90+ languages including Chinese, English, French, German, Japanese, and Spanish. Portable and does not require installation. See http://capture2text.sourceforge.net for details."

JGlossator "can create a gloss for Japanese text complete with de-inflected expressions, readings, audio pronunciation, example sentences, pitch accent, word frequency, kanji information, and grammar analysis. See http://jglossator.sourceforge.net/ for more information and screenshots. Inspired by Translation Aggregator, but aimed primarily at people learning Japanese."
The two work seamlessly together; here is a video of them in action.
/windows | May 28, 2016
Slipstreaming the Windows 7 SP1 convenience rollup #
This guide ended up being a little long for a blog post, so I've added it to the document vault: Slipstream Windows 7 SP1 convenience rollup into a universal x86/x64 installer

/windows | May 21, 2016
Synchronize, backup, or copy files and folders #
with SyncFolders. Features include: versioning (including auto cleanup of old versions), filtering, previewing, scheduling (via Windows' Task Scheduler), verifying (via CRC32, MD5, or SHA-1 hash), launching via command line, support for long file names and UNC paths, and more. Does not natively support VSS, but can be paired with ShadowSpawn to copy in-use files after configuring and saving job rules in the GUI; e.g.,

shadowspawn.exe C:\Users\foo Q: "C:\Program Files\SyncFolders\SyncFolders.exe" /background /synchronize C:\Users\foo\Documents\backup.rls /log:C:\logs\backuplog.txt

which:
Runs ShadowSpawn.
Mounts shadowed version of C:\Users\foo to Q:.
Runs SyncFolders
in the background,
executing (rather than previewing)
the backup.rls rule file,
and logging results to backuplog.txt.
(To prevent "You do not have write access to folder Q:." when using this procedure, uncheck "Use local database to track file changes" in the Advanced tab for the rule.)

SyncFolders is unrestricted freeware and requires the .NET Framework.

/windows | May 17, 2016
---